Learn a virtually fail-safe method for tuning any drum with any type of head.

You'll also learn: the anatomy of a drum, the theory behind tuning, and differences between types and brands of drum heads.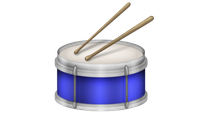 Date: Sunday, Oct 21st
Time: 1pm to 3pm
Where: Decatur, GA (Address and directions will be provided.)
Cost: $50. Includes a handout with specific pitches for each drum (top and bottom heads), as well as step-by-step instructions for my tuning method.
You bring: 
A snare drum and a tom-tom

A drumkey

Optional, but highly encouraged: new heads for each  

Moongels, Drum Dots, or any other gel drumhead dampeners 

Smart phone with an app that plays specific pitch tones (like Pitch Perfect)
Drum tuning is an esoteric art that can be difficult for even the most experienced of players. But the importance of tuning can't be overstated -- even the lowest-quality drums can sound 100% better with new heads that are well tuned and dampened.
~ It's so much more satisfying to play a drumset that sounds amazing.
~ Tuning your drums will make you want to play them more. 
After struggling with tuning for much of my career, I honed in on a virtually fail-safe method. I've now tuned ancient heads on the cheapest of drumsets, and pro-level backline kits at huge music festivals -- both sound fantastic using this method.